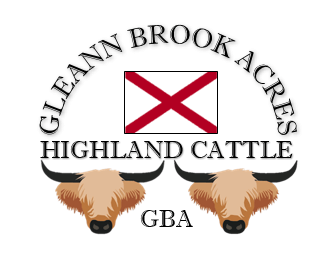 ---
Gleann Brook Better Beef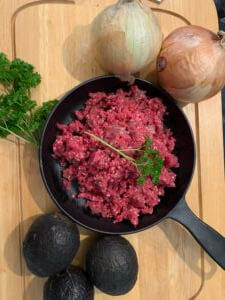 ---
At Gleann Brook Acres, we produce 'Natural', pasture raised, grass fed and finished Highland Beef. NO antibiotics or hormones EVER. We are proud to raise our cattle humanely, the way nature intended, on open Alabama pasture.
Farm stand pricing for pick up by appointment only:
-Ground beef - ~1 lb packages at: $7/pkg
-Roasts - 2-3 lb packages at: $9/lb
-Cube Steaks - ~1 lb packages at: $8/lb
-Stew Meat - ~1 lb packages at: $8/lb
-Liver: $5/pkg
-Soup Bones: $10/pkg
Bundle pricing for local delivery or pick up:
-15 packages Ground Beef for $100
-2 Roasts and 8 packages Ground Beef for $100
Custom cut Highland beef by the whole is available, please contact us for pricing. Price includes delivery of the animal to the processor but does not include processing fee (packaging) which is handled directly with the processor. We use the following facilities according to availability.
--Custom cut is currently not available, but we hope to have it available again in the future.
-LouAllen Processing, Inc. (USDA inspection available) 113 Kimbrough Lane, Russellville, AL 35654
-Weaver Meat Processing 2098 Hwy 55 Hartselle, AL 35640
-Reed's Meat Processing 510 Dunlap Drive, Clanton, AL 35045
Finished skulls are occasionally available. Please contact us for pictures and pricing.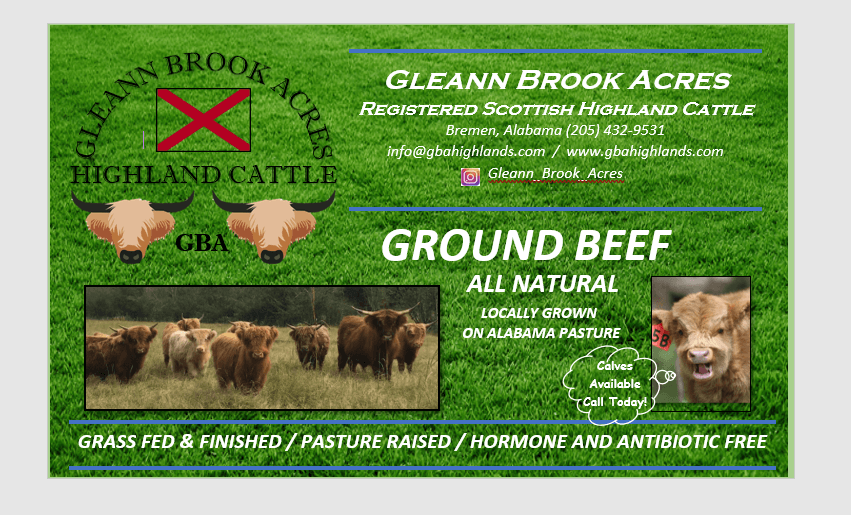 Farmer's Markets
Gleann Brook Acres wants to thank all of our patrons at the Cullman Festhalle and Gardendale Farmer's Markets. We look forward to seeing you again!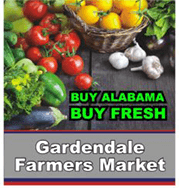 Will be back soon.
Gardendale Civic Center
857 Main St
Gardendale, Alabama 35071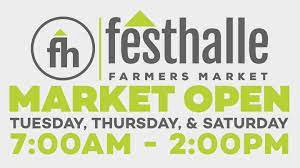 We will be back soon.
209 1st Ave NE
Cullman, Alabama 35055